VAPJOY LLC DBA

modalART
"modalART" marries interMODAL transportation inventions with futuristic ART and design in container architecture.

104 MAYWOOD ROAD
NORWALK, CT 06850, USA
PH 203 570 0150
FX 888 908 7071
INFO(AT)MODALART.COM
SOUTH ATLANTIC SALES
CHARLOTTESVILLE, VA, USA
PH 508 360 4473
FX 888 908 7071
JEANNE(AT)MODALART.COM
\
HOSPITALITY_SOLUTIONS
PH 203 733 3293
DAVE(AT)MODALART.COM
VAPJOY IS A LIMITED LIABILITY COMPANY, REGISTERED IN THE STATE OF CONNECTICUT, USA, SINCE 2010.
CONTAINER SUPERSTORE
CARGO CONTAINER SALES, MODIFICATIONS & DELIVERY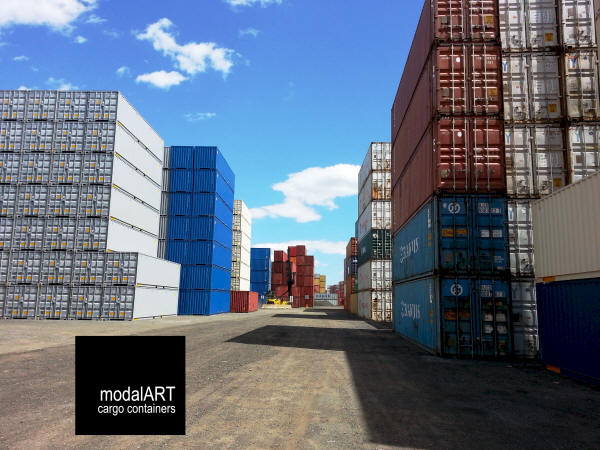 ModalART is a leading supplier of new and used ISO shipping and storage containers across the United States.
Leveraging our longstanding supply relationships with leading container manufacturers, lessors, shipping and steamship lines, we have one of the largest inventories of containers in the United States that are available for immediate delivery in small or large quantities across the nation, see In Stock.

For a free quote on our great selection of new "one trip", "cargo worthy", "wind and water tight", and "as is" shipping containers, plus delivery to your site, go to Free Quote.
We bring ART to the design and custom modification of shipping container offices, shelters, and numerous other applications.
See some examples of our work: Upgrades.
Witness our breakthrough solutions for events and trade shows: Our Italian designed, and patented roof structures are ideal for showcasing your corporate brand at the Olympic Games, and other international events.
Their uses range from event headquarters, VIP lounges, to product showcases, and are all the rage with European automobile and motorcycle manufacturers, see Event Roofs.

Our canopies are reusable, and internationally deployable on short notice.
Let's discuss your visions, and enhance your next event's vitality and glamour with an optimal solution for your corporate brand:
203 570 0150
info(at)modalart.com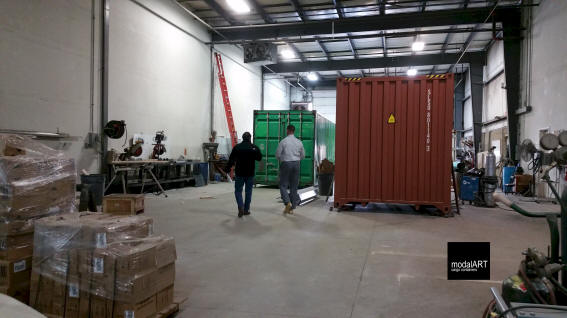 "ModalART" marries intermodal transportation inventions with
futuristic Art and design in container architecture.